Society of Mary (Marists) U.S. Province Archives
Films documenting Atlanta's Catholic community that belonged to Father Michael Kerwick (1912-1990), an educator at Marist College (now Marist School) in Atlanta from 1942-1968.
Russell Library. Special Collections
Digitized materials collected by Georgia College & State University Special Collections at community scanning events held at locations throughout Middle Georgia beginning in 2019 as part of a National Endowment for the Arts (NEH) Common Heritage Grant project.
City of Savannah Municipal Archives
Minutes of the Commission's regular and special meetings from 1896-1972 that include: names of commissioners; copies of the act of creation; oaths; financial reports; resolutions; reports on parks and squares; cemetery reports; personnel and payroll; committee reports; authorizations; and annual reports.
Society of Mary (Marists) U.S. Province Archives
Color photographic slides from a collection of papers belonging to Father Vincent Brennan (1912-1993), a Marist educator who served Marist School continuously from 1942-1968, as a teacher, principal, and president.
Civil Rights Digital Library
The struggle for racial equality in the 1950s and 1960s is among the most far-reaching social movements in the nation's history, and it represents a crucial step in the evolution of American democracy. The Civil Rights Digital Library promotes an enhanced understanding of the Movement by helping users discover primary sources and other educational materials from libraries, archives, museums, public broadcasters, and others on a national scale. The CRDL features a collection of unedited news film from the WSB (Atlanta) and WALB (Albany, Ga.) television archives held by the Walter J. Brown Media Archives and Peabody Awards Collection at the University of Georgia Libraries. The CRDL provides educator resources and contextual materials, including Freedom on Film, relating instructive stories and discussion questions from the Civil Rights Movement in Georgia, and the New Georgia Encyclopedia, delivering engaging online articles and multimedia.
CRDL is a partnership among librarians, technologists, archivists, educators, scholars, academic publishers, and public broadcasters. The initiative received support through a National Leadership Grant for Libraries awarded to the University of Georgia by the Institute of Museum and Library Services.
Visit the Civil Rights Digital Library
Georgia Historic Newspapers
Georgia's print media history began in 1763 with the establishment of the state's first newspaper, the Savannah Gazette. Considered history's "rough draft," newspaper journalism has wide ranging impact. Beyond a reporting of facts, newspapers reflect the social and cultural values of the time in which they were compiled and as such, are invaluable to scholars and the general public alike. These publications document not only cities and counties throughout the state, but also record the activities of the state's various ethnic, religious, and educational groups.
The Georgia Historic Newspapers portal provides free, full-text searchable access to over 1 million pages of Georgia newspaper content dating from 1763 to 1968. Newspaper titles are regularly digitized and added to the archive.
The Georgia Historic Newspapers database is a project of the Digital Library of Georgia as part of Georgia HomePlace. The project is supported with federal LSTA funds administered by the Institute of Museum and Library Services through the Georgia Public Library Service, a unit of the Board of Regents of the University System of Georgia. Additional support has been made available by the R.J. Taylor Foundation, Flint Energies, and a number of other local foundations and public libraries.
See all the newspaper issues or collections digitized by DLG.
Visit the Georgia Historic Newspapers site.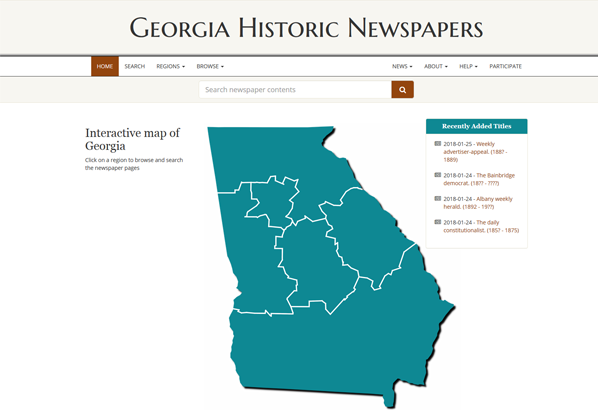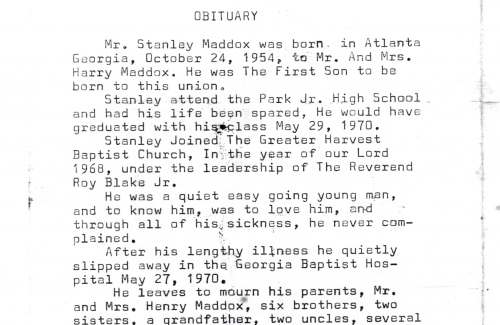 Tamika Strong, a reference archivist at the Georgia Archives, and founder of the Wesley Chapel Genealogy and Historical Research Group in DeKalb County describes how she established a new archive of African American funeral programs based upon the African American funeral programs from the Augusta-Richmond County Public Library System collection that she discovered in the DLG.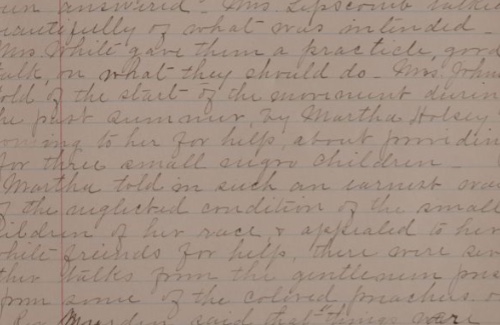 Sidonia Serafini, a Ph.D. candidate in English at, the University of Georgia discusses the history of Martha Bass Holsey, an African American woman who established an orphanage and a daycare for working Black families in Athens, Georgia during the Jim Crow era.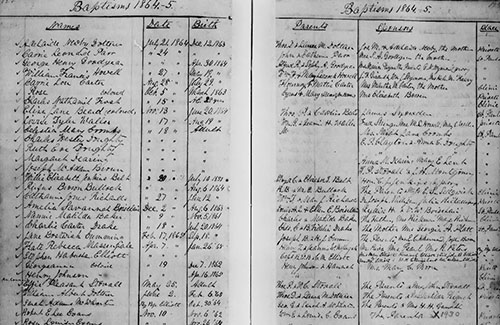 Susan Yarborough, chair of the St. Paul's Church of Augusta, Georgia's History Committee shares her experience working with DLG staff as a subgrant winner and describes one of her favorite items in their newly digitized collection: a page dating from 1864 that was included inside of a parish register.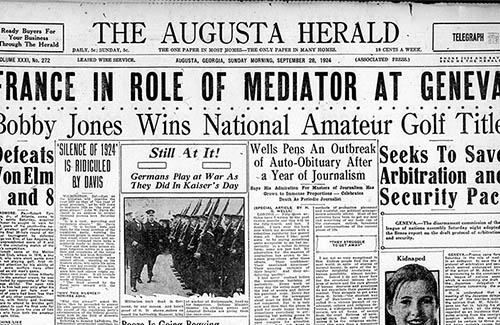 Augusta Chronicle writer Bill Kirby recently wrote an article delving into the history of Augusta's Woodlawn School, which educated the children of Augusta cotton mill employees, using the DLG's newly released collection of historic Augusta newspapers, The Augusta Herald, 1898-1908, The Augusta Daily Herald, 1908-1914, and The Augusta Herald, 1914-1924.